Recommended Glove Size

Weight

Training

Sparring

Pro Fight

Amat Fight

<100lbs

<45kg

8-10oz

12-14oz

6oz

10-12oz

100-125lbs

45-57kg

8-12oz

14-16oz

6oz

10-12oz

125-150lbs

57-68kg

10-12oz

14-16oz

8oz

10-12oz

150-180lbs

68-80kg

10-12oz

16-18oz

10oz

10-12oz

>180lbs

>80kg

12-16oz

18oz

10oz

10-12oz
YOKKAO Matrix Boxing Gloves are made with 100% genuine leather to provide all-round protection, comfort and complete support. Matrix Boxing Gloves come in a wide range of colors and feature an embroidered YOKKAO logo for a premium feel.
Customer Reviews
Write a Review
Ask a Question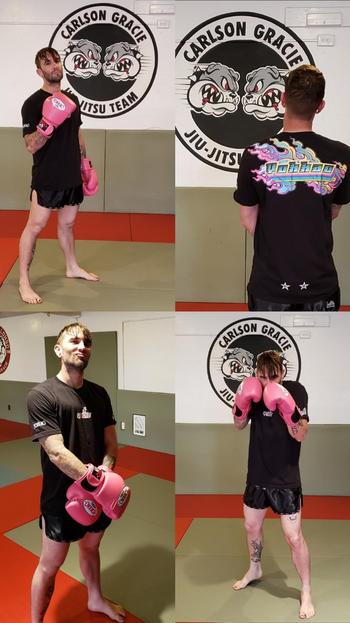 04/24/2021
Yokkao gloves
I absolutely LOVE these gloves Also! I wanted something with equal parts quality and style and I knew Yokkao was the brand for me! Top quality craftsmanship, great color, fit, and finish! Hands down, I'll be ordering from Yokkao again for all my Mauy Thai and kickboxing needs! Also, I'd like to say how impressed I was with how quickly my order arrived. I was so excited to find out my package had gotten here and I'd be able to train with my new gloves that night! Thank you Yokkao for making these awesome gloves, I love them and I've been getting nonstop compliments at the training gym!
Ryan M.

United States
03/06/2021
Quality gloves
These gloves I bought for my friend, she is paying me back. I purchased my own a few days ago because of how quality these gloves are.
jasmine s.

United States
01/03/2021
Top Quality
The second I slipped them on I knew I had a quality product in my hands. Bag work felt good, punches feel great. I have another pair of 12 oz military green pair coming in!
Sergio S.

United States